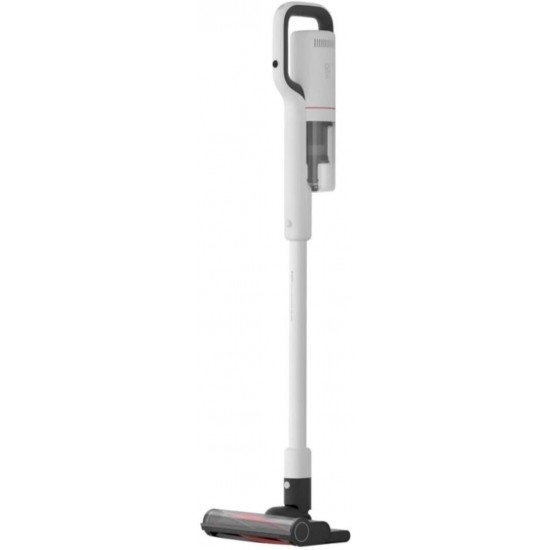 XIAOMI ROIDMI CORDLESS VACUUM CLEANER BX20
Mop and Vacuum Combination
Double cleaning with less worry

120,000rpm brush-less motor
Improve 30% suction power

65 min battery
Deep cleaning large house

Magnetic wireless charging
More personalized experience upgrade

Air-X air-dust separation system
Avoid congestion and loss

6 layers filtration
Double purification of front and rear filters

Classic Design
6 international awards

Mop and suction combination
Who says you can just either Vacuum or Mop. What about do them both at the same time?!

The next generation of strong suction vacuum cleaning and easy mopping
The new generation of power & wind tunnel system enables ROIDMI X20 to have a strong powerful suction of up to 145AW to vacuum all the residues on the floor before mopping.

Vacuum then Mop at the same time
ROIDMI X20 integrates the design of vacuuming and mopping. Get them done easily at the same time. Double Clean and Save Double Time!

Plant bionic water tank & wet mop pad Intelligent slow drop technology to avoid water overflow
Base on the principle of plant capillarity, absorb water automatically while mopping to keep the mop pad wet at consistent level and water will not overflow even in static status. Attach with the microfiber mop pad, helps to deep clean and keep the floor sparkling clean.

Magnetic wet mop accessory
The water tank assembly is magnetically attached to the ground brush. Easy assemble, the two components click and attach together firmly when getting close. One second assembly without any burden.

New Generation of Water resistant soft rolling brush
The soft rolling brush is made of Nanoscale hydrophobic fiber which is waterproof, anti-fouling and self-cleaning. The real integration of vacuum and mop is not just about the component. Normal soft rolling brush will collapse and ruin easily when it's soaked. Therefore, ROIDMI has invented and developed this innovative nano-level hydrophilic fiber soft rolling brush.
When it touches water, It will not collapse and can be spun dry easily.

Ergonomics Design Help Reduce Mopping Injuries
While mopping, it requires more downward pressure than vacuuming and it's easy for mopper to pull a shoulder or strain their back. Reducing injuries requires the right tool with proper design. ROIDMI X20 Cordless Vacuum clean with mop offers you the easiest way to vacuum and mop at the same time. With its 270° two ways handle, allows you to comfortably grip with
both hands and mop the floor a lots easier.

Continuous Six International Awards on Classic Design Aesthetics in Art of Home

Everlasting classic of home aesthetic works of art
Elegant pure white host,seemingly refined appearance, extraordinary inside.

A simple design of ink blending with a futuristic feel
White as a paper and Black as ink. The combination of ink black and white increases its elegance and freehanded brushwork of ROIDMI X20 cordless vacuum cleaner.

The latest X20 is a new upgrade with better power and performance

Engine-X Digital brushless motor 120,000 revolutions per minute 30% increase of stronger suction power
A new generation of engine-x digital brushless motors with up to 120,000 revolutions
per minute, combined with an innovative direct air dust design which steadily output
145AW suction power and 23500Pa vacuum air pressure

BMS-X battery management system 8-cell LG / Samsung Lithium battery 65 minutes long battery life
The new generation of BMS-X management system optimizes with the 8-cell LG /Samsung power lithium batteries, intelligently extends the battery life of X20 cordless vacuum cleaner. Come with the mobile APP which will send notification of battery level status and timely remind you if there is any issue.

Air-x dust separation technology Direct suction multi-level cyclone Prevention of blocking and power loss
Although the traditional cyclone technology can avoid the blockage of filter duct, however the stronger the cyclones will also jam the air dust due to the increase of wind resistance and the loss of suction power. The new generation of air-x dust and air separation technology, implements dust and air separation effect through a more simple structure of direct multi-stage suction which fundamentally solves the problem of suction reduction.

"Whale Swallow" big round roller brush design Equipped with 2 different alternate roller brushes, free to switch and easy to deal with a variety of complex grounds.
ROIDMI X20 vacuum cleaner adopts large capacity roller with independent motor inside, which can easily suck particles, hair and dust. Equipped with 2 kind of rolling brushes - soft velvet & carbon fiber, which meet the cleaning requirement of all hard wood floor, floor tiles, carpets and any other floor types.

Double filters & Six layers of air filtration Double freshness, air purifier in X20 cordless vacuum clean

Double purify, the front and rear filter elements, 4+2 times
The double fiters with six-layer air fltration system from the Roidmi air purifier is comparable to the fresh exhaust of the air purifier, double insurance to your health.

Double simplicity and extra user friendly experience

Triple noise reduction Focus on better sound quality Lighter, quieter and more pleasing to ears
The Engine-X brushless motor eliminates high frequency jarring noise and makes the sound more pleasant.
Optimized with the air-x dust which noises can be canceled and neutralized. Plus a post-filter element that will further block the noises.

Intelligent air suction protection The host will stop working automatically without the front filter
If the front filter is not installed in the dust cup, the host will stop working in order to avoid any damage to the motor causing by dust and particles. This can protect the safety of both the device and user.

Magnetic Wireless Charging Technology
The first cordless vacuum cleaner that comes with an innovative magnetic wireless charger, which makes charging and storage easier. The magnetic dock is the charger, just simply drop your ROIDMI X20 cordless vacuum cleaner into the wall-mounted charging dock, and ready to grab and go.

Replaceable battery design
You don't even have to worry about the battery performance of
ROIDMI X20 cordless vacuum cleaner getting worse with time, as we will provide Battery Replacement Service. Users can buy new batteries module and replace by themselves to restore a full battery life.

Intelligent APP control Automatic exception alert
Connect your ROIDMI X20 cordless vacuum cleaner to your mobile phone via bluetooth then you can check the host power, cleaning time, dust-filled reminder, filter change and other information through the ROIDMI APP. The calorie consumption index will be displayed
on APP and help you to achieve the optimal cleaning experience.

65 minutes long battery life
Long enough to deep clean a 420 square meters of size.

1.5 kg lightweight design, makes it easy to operate, both on the
ground and when reaching above your head to suck up those ceiling cobwebs or dust on curtains.
Stock:

-

Model:

6970019143651

Weight:

6.36kg

Dimensions:

32.30cm x 60.70cm x 20.00cm

MPN:

1C381TRB

XIAOMI
Specifications
Features
Ingredients
Çok İşlevli Fırça Kombinasyonu Güç Adaptörü HEPA Filtresi + Arka Filtre Temizleme Fırçası Manyetik Duvar Şarjı Uzatma Hortumu Yatak Fırçası Su Tankı Aksesuarları